André Lhote
Bordeaux 1885 - Paris 1962


André Lhote was born on July 5, 1885 in Bordeaux, where he learned wood carving at a furniture maker's studio at the age of thirteen. A little later Lhote entered the 'Ecole des Beaux Arts' to study sculpture. When leaving his parents' house to set up a small studio in 1905 he also wanted to focus on painting. Ever since he commenced his studies, Lhote had also practiced his passion for painting autodidactically. That he was very talented in this genre is proven by the fact that he presented his works in a first solo exhibition at Druet's in 1910, four years after he had moved to Paris. The artist was not only interested in the practical side of painting but also on its theoretical foundations. Lhote took the opportunity to co-found the journal 'Nouvelle Revue Française', in which he published his critical considerations on art until 1940. In 1912 the painter joined the 'Section d'Or' group of artists and stylistically approached Cubism. When the war broke out, Lhote was drafted to the military. This interrupted his creative work for three years. In 1918 Lhote realized his plan of founding a painting school in Paris. From 1920 onward his theoretical findings attracted an interested audience during his numerous lecture tours in France and abroad. In 1938 the painter purchased an old house in Gordes, where he experienced the beginning of the war together with his wife and the colleague painter Marc Chagall. The couple remained in Gordes until 1942, when they returned to Paris, where Lhote wanted to return to teaching at the painting school. After the end of the war André Lhote recommenced his lecture tours, travelling to Belguim, England, Italy and in 1950 for the first time also to Egypt, where he returned a year later to hold lectures at the Cairo art academy. In 1952, his treatises on the theory of art took him to Rio de Janeiro, Sao Paulo, Bel Horizonte and Bahia. After his return to Paris, his lectures focused on the Egyptian art in the Valley of the Kings. In 1955 his work was awarded the 'Grand Prix National de Peinture'. The UNESCO commission for sculpture appointed Lhote president of the 'International Association of Painters, Engravers and Sculptors'. Numerous international exhibitions such as an exhibition of his work at the Mussée d'Art Moderne in 1957, recognized the œuvre of the painter and art critic.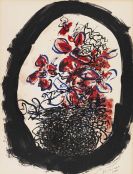 Georges Braque
Frontispiz aus "Braque Lithographe"
999 $
Details